A TAIL of A New Kind of Rescue Group in Northern Lower Michigan (January)
There is a new animal rescue group in Northern Lower Michigan called Northern Michigan Rat Rescue (NMRR). While the Pet Friends website usually focuses on dogs, cats and horses, I was intrigued by this new group and wanted to learn more.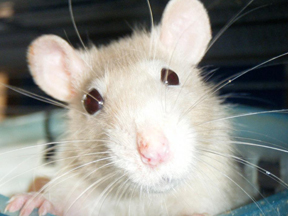 The organization is being run out of Cedar by Erin Dendrinos. She rescues domestic rats and keeps them in a shelter in her home as well as using other foster homes. NMRR does NOT take in feral or wild rats. Wild rats are dangerous and carry diseases that can kill tame rats. They do not domesticate well and their bites leave scars. It is also illegal in most states to transport wild rats off of your own property and release them elsewhere. Click here for the rest of the story.
Recent Product Recalls Concerning Pet Food:
(January)
Arrow Brand Dog Food due to aflatoxin. Please click here for more info.
Petrus Feed And Seed Stores, Inc. Recalls Its 21% Dog Food. Click here for more info.
For a list of all recalls animal & veterinary recalls & withdrawals in 2011, please click here.
Veterinarian Karen Mertaugh Lives an Unconventional Life (January)
Veterinarian Karen Mertaugh spends time with her pets Frieda and Margarita, two goats that live on the 100-year-old family farm, the site of her and her husband's practice, The Animal Medical Center. When you come to the house of Karen Mertaugh, chances are you'll be greeted by a dog, a cat or even a school of fish housed on the west-side wall – all before setting foot in the actual home. Click here for more info.
Help Area Rescue Groups by Dropping Off Items in Elk Rapids
Bowsers By The Bay is now a drop off site for any donations for the local rescue groups (of customer's choosing). Bowsers by the Bay is at 201 EC Loomis Industrial Park Drive in Elk Rapids. They can receive donations of items or money and will contact your favorite group to let them know they have donations ready for them.
Bowsers by the Bay is a fitness and rehabilitation facility for dogs. They are truly cage free. They have about 4500 square feet of indoor and outdoor play/training space for dogs. All dogs must be temperament tested before they arrive. They provide day camp and boarding, training, full-service grooming and will eventually have a veterinarian on board to do physical rehabilitation work. Please stop by anytime for a tour. The fitness center is open Monday through Friday from 7 am to 6 pm and Saturdays by request. They board 24/7 and are staffed around the clock.
New leash on Dog Park Plans in Traverse City
(January)
The Traverse City community continues its effort to create a leash-free park for their canine companions. The Traverse City Commission approved the proposal for the dog park last month. The dog park will be located on city land at Division and Bay Street. For more information on the story, please click here.
If you'd like to donate to help get the dog park up and running (scheduled for May of this year), send your donations to:
Mr. Lauren Vaughn, Superintendent
City of Traverse City Parks and Recreation
625 Woodmere Ave.
Traverse City, MI 49686
Make your check payable to City of Traverse City with Dog Park in the memo line.
KAM Rescue Group in Cadillac Disbands (January)
Unfortunately, a new rescue group that started in Cadillac shut down almost as quickly as it started. Due to disagreements among the founders, they are working independently now, still rescuing animals but no doing it as an organization.
SUFA (Stand Up for Animals) is Now Operating as Pine Cone Farm (January)
Linda Gottwald is now operating her animal rescue organization under the name of Pine Cone Farm. The animals up for adoption can be seen on her Petfinder site.
Here is the most recent link to the lawsuit concerning SUFA and activities in Florida.
Just One Day - to Save Pets in Shelters (January)
What is a day? There are many ways to answer that question. A day is 24 hours. A day is how we measure how much time we spend at work. A day can be something we look forward to, a celebration of some kind. But in U.S. animal shelters, a day represents 10,411 lives needlessly lost. To most people, June 11 is Just One Day. But, June 11 is a day that could change everything for 10,411 companion animals, and a day that can change the world. On June 11, 2012, we could be a No Kill nation. For more info, please go to this website.