Loving Our Pets Through Heartache and Loss
It's been a hard month for some of my friends in the animal community. Many of them are dealing with sick pets and quite a few have lost their pets recently. Whether it's cancer, old age or an unexpected illness or injury, the loss is felt the same. It doesn't matter if they were able to spend 14 years with their special friend or 14 months. In the end, it was their best friend – their buddy. Losing a pet is very hard to go through but the rewards from sharing our lives with them make it all worthwhile.
The rewards we get include unconditional love, a tail wagging when you come home from work, a cat getting you up at four in the morning for breakfast, and in my case, a "dog break" every day at lunch to keep my sanity. Life without a pet would be alien to me and many others. SInce I was about five years old, I have had a dog. Being an only child, I think it was my parent's way of giving me a sibling. There is a great quote from a great American pet writer, Mordecai Siegal, that says, "acquiring a dog may be the only opportunity a human ever has to choose a relative."
There are many pet owners in our community right now, struggling with a sick pet and trying to balance their pet's sickness with quality of life issues. Depending on the age of the pet and the progression of the sickness, some owners are able to provide extended care so that the pets can live a little longer with surgery or treatment, while others are only able to provide medications to ease their pet's pain and give them a sort of "hospice" environment until the time comes that they cross the Rainbow Bridge. There are no limits for what we will do for our pets.
All too often, like people, pets get cancer. In a recent article I read in the Wall Street Journal, it said that because of the shortened life of a pet, the cancer usually progresses at a much faster pace than in humans.
Erin Monigold, who helps AC Paw with their social networking sites, recently lost her English Setter Hank to mouth cancer (squamous cell carcinoma). Erin and her dad adopted Hank when he was only an eight week old puppy and Erin was only sixteen at the time. They got him from a tiny downstate breeder located in Alto, Michigan. He was one of ten adorable puppies. Erin picked him out from the litter and they were best friends ever since.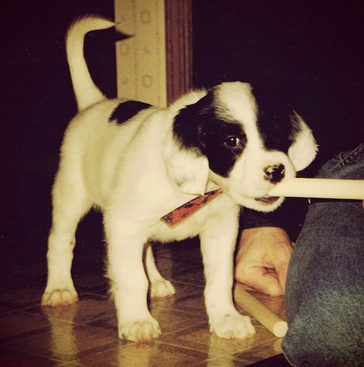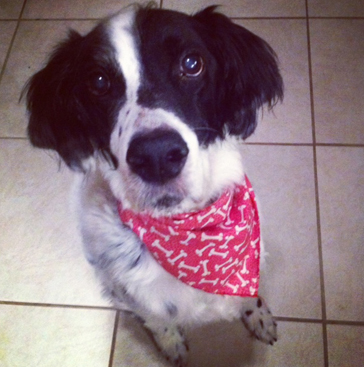 Hank passed away on January 30, 2012 at the age of twelve. Just before Christmas he was diagnosed with mouth cancer. Erin had returned home from a business trip and found that the right side of his mouth was slightly swollen. She also found a spot of blood on her bedspread. She knew something wasn't right and took him into the vet where they did a biopsy. Erin was given the options of putting him down right away, taking him to Michigan State University for chemo and radiation, removing part of his mouth, or putting him on doggie hospice for the rest of his days. She couldn't stand the thought of putting her 12 year old dog through more surgery or chemo. She decided he was happiest at home and should spend the rest of his days where he was happy. He ended up living about a month and a half after she found out he was sick.
Erin spent that time comforting her best friend and treating like a king. Being on doggie hospice, it was important to manage Hank's pain and keep him comfortable. He was given a daily dose of liquid pain medicine (Metacam) and antibiotic pills (Cephalexin) twice per day to fight the infection. Due to the mouth tumor and the oral surgery he had for his biopsy, it was extremely important to feed him a soft foods diet only. Hank was never a fan of canned dog food so it was difficult for him to have this change in his diet. After going through many different brands, she ended up finding Wellness brand of canned food that he liked. She also cooked him rice with chicken or beef to mix with his food.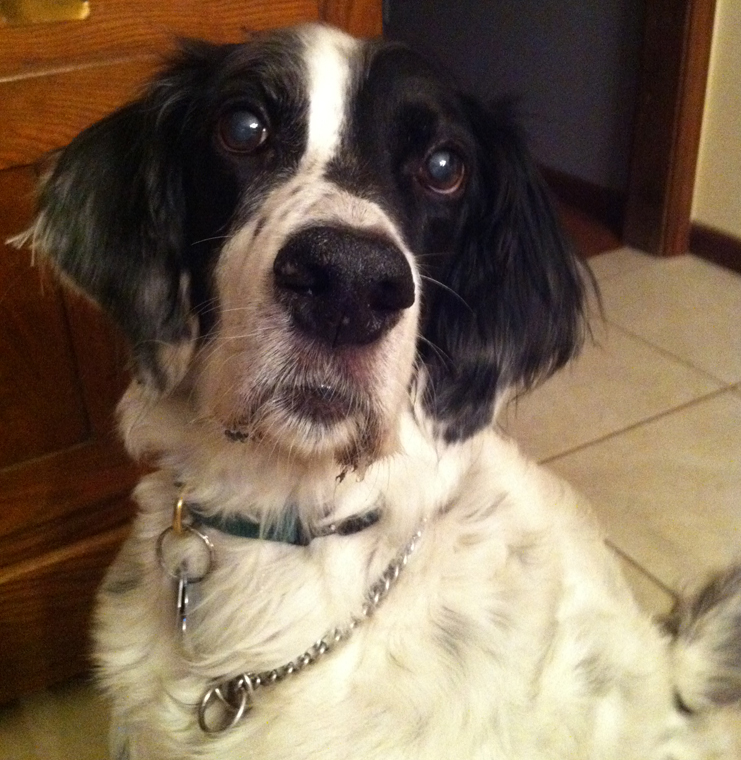 Erin says about the experience, "Obviously the hardest part is seeing your pet sick and not knowing whether or not they are in pain. It's also very hard knowing that you're going to lose a family member and knowing that you don't have much time left. Like dealing with a sick family member, it consumes your life and can be quite stressful. I am very fortunate to work from home and was able to help Hank and keep a close eye on him 24/7. He grew super attached to me in his final month and a half and it was hard on him when I'd even leave the house for a short time. I learned to cherish every minute I had with Hank in his final days. I spent less time worrying about the little things and more time just enjoying his company, cuddling, and his kisses."
Hank had his good days and bad days and sometimes it was easy to forget that he was sick. He loved to spend his day in Erin's sunroom looking out over the yard and watching chipmunks and squirrels outside. Erin believes it's important to keep your pet happy, no matter what. She had Hank cremated and his ashes are now in her sunroom where he loved to be the most.
Erin also mentioned that after her dog got sick, she sought a second opinion and ended up finding a gem in Dr. Izo at Companion Animal Hospital. She was so compassionate and helpful, telling Erin how to deal with Hank's doggie hospice. When the time came to put him down, Dr. Izo came out to Erin's house to help Hank go over the Rainbow Bridge comfortably. Erin says, "It's SO important to find a vet that cares and will listen."
Now Erin has the silence to contend with and the difficult times that come from not hearing the jingling of a dog tag and not having someone to walk or feed. She doesn't have any other pets to comfort her but she thinks the loss of a pet would be easier with other pets around. She plans on holding off for a while on getting a new dog due to her busy work schedule. But sometime in the future, she is sure a cute little rescue dog will end up finding her and stealing her heart when she least expects it. That is probably very true considering that she is the person who posts the animals up for adoption on the AC Paw Facebook page!
Everyone has their own pace when it comes to getting another animal after one has passed away. I remember when my previous dog, Gus, died, my husband put a 30-day waiting period on getting a new dog. We had just moved into a new house and he wanted to get settled in. I had been ready for another dog in about a week but I understood that he needed more time to get adjusted to our new place. Our dog, Gus, actually moved in before we did. He died at the duplex we had been renting. The owners of our new house who lived up the hill from where we were moving to, dug a hole for Gus with their backhoe so that we could bury him in a little garden area with tulips, some doggie stones and chimes. Me and my current Cairn Terrier, Jonah, often walk by to say hello and update Gus on what the cats are up to.
Another animal friend, Suzanne Weiler, with In Home Hugs (pet and home care) recently lost her Maltese, Basil, to congestive heart failure. Basil was nine years old and was diagnosed a few months ago with an enlarged heart (congestive heart failure was caused by the enlarged heart and months later the esophogus was compromised by the enlarging heart pressing on it).
Suzanne lives close to her vet and was able to get Baz to the vet quickly after he first coughed and collapsed. They pumped him with Lasix and put him on oxygen. As most pet owners do when their pets are diagnosed with an illness, Suzanne learned more about his condition. Baz (his nickname) was put on a salt free diet, Lasix, phenobarbital (for a previous seizure disorder), and heart pills. Suzanne also built him an oxygen tent.
The oxygen tent was not expensive to build and relatively easy. Using a crate she already had, she converted it into what she called "Baz in the Bubble" after investigating oxygen tanks and found the added 02 would give him a boost for his health. Suzanne is also willing to help anyone who is interested in creating an 02 tent for their pet. You can email her here if you have any questions about it.
Baz's heart began to compromise his esophagus, causing him to not be able to swallow large gulps of food. His symptoms were distressing. He had already lost 2-1/2 pounds and didn't want to eat. The vet recommended a special (no salt) canned food to include with his (no salt) kibbles. A little canned food mixed with kibbles and water, slightly heated became an exciting meal for the Baz and he was again twirling for his meals! To avoid his choking and vomiting, Suzanne spoon feed 4-6 kibbles onto a plate, wait to be certain he has been able to swallow the food, then continue to the next spoonful. Another easy answer.
Day by day, Suzanne and her husband Mark continued to evaluate Baz's condition and needs. He had many great days, barking at squirrels, twirling for food and enjoying a short ride in the car. Suzanne's concern is that many people would put the dog down as soon as a bad diagnosis is made, so that is why she wanted to share her experience with others so that people can know that "it isn't over until it's over".
Near the end of his life, Baz was taken into the vet with a buildup of fluid and paralysis of his back legs. He received more Lasix and steroids for his legs. This helped his legs get stronger but unfortunately, Baz died shortly after that on February 6th. He had a heart spell and Suzanne and Mark decided to let him go. They had decided to put him on the "DNR" list so they did not call the vet this time. His little heart gave up after about two or three minutes.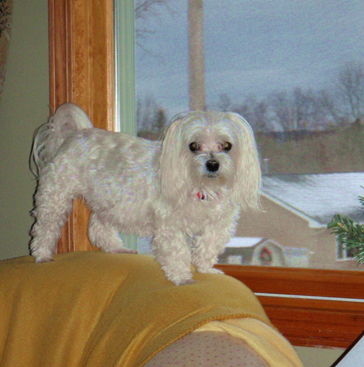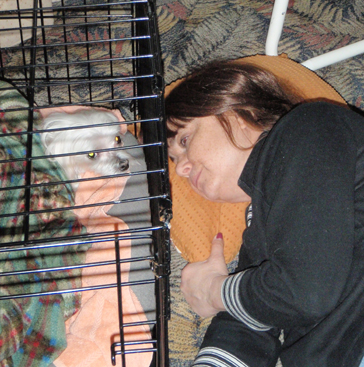 Baz was five months old when Suzanne got him. Her husband, Mark, being allergic to certain dogs, had constraints about the type of dog they could get. Mark was not an animal lover, but Baz is the dog who made him see the light and now he "gets it."
The day Suzanne and Mark went to meet Baz, they was looking at many dogs. All of the dogs were out of the cage and Suzanne was on the floor gloriously covered by about 25 dogs/puppies. Her husband kept saying, "What about this little guy?", indicating Baz. She was considering a different type of dog so she didn't pay much attention. After a quite a while, she really looked at her husband and saw what was going on; Baz kept calmly sitting at his feet looking up at him, while all these other dogs were going nuts climbing over her. Suzanne says, "Something told me this was the guy for us. It's true, THEY pick US out. What a smart guy he was."
Suzanne and Mark have another Maltese named Betty who is eight years old and she is comforting them with their loss. They are still crying a lot and dealing with their grief, having flashbacks of his last few days with them. Suzanne says, "I have felt an emptiness left by not only Baz's lack of presence, but the constant pills, monitoring, oxygen tent, and spoon feeding; I realized just how much time, energy and anxiety I had utilized but the Baz was worth every minute."
Betty is also dealing with her own grief. The night Baz died, Suzanne and Mark took Betty with them when they went to Great Lakes Pet Memorial with Baz. They put Baz on the floor and Betty sniffed his eyes which did not blink; this seemed to be a sign. When they got home, they eliminated all of Baz's beds and toys. The next morning when Suzanne let Betty out, she headed for the dog pen, stopped, turned and looked (they had always been shoulder to shoulder going to the pen), then came back inside and sat next to Suzanne. 'I'll go with you' Suzanne told Betty, so they went to the pen together. Now and then she sniffs where Baz's bed was and his favorite spots. Suzanne and Mark kept a lock of Baz's hair, and they occasionally let Betty sniff that, too. Betty lays around a lot and seems depressed, more than just the hibernating winter blahs.
Suzanne and Mark do have plans to get another dog sometime in the future. She says, "Many people say that the pain of pet loss is so great that they will never do it again. I feel it is the greatest tribute to the love and faithfulness our furry friends offer us to say "Yes, I'd do it again in a heartbeat". Doesn't that just show how much we valued what they gave us?"
In addition to her own pets, Suzanne is also a professional pet sitter and has been taking care of other people's animals for over 15 years. She hadn't done any sitting for a few months while Basil was going through his health issues, but she plans to resume her sitting again soon. Being around other dogs will surely be another way to ease her grief and bring back good memories of Baz.
AC Paw founders Brian Manley and June McGrath, have experienced the end of a pet's life far more times than the average person. In addition to their own pets who have died, there are also the AC Paw rescues who couldn't be saved and the ones who were saved and adopted out but have passed on since then.
Brian and June have lost a couple hundred rescue cats and dogs that they had strong emotional ties to. These were poor souls who didn't live long enough to be adopted out into loving homes. They've lost orphaned kittens and puppies who could not be saved because of sickness, injured pets and others who came from difficult circumstances. They've also adopted pets when no one else would and have lost more than 20 dogs of their own and a few dozen cats over the years. Brian says, "Even with only a short time with them, it is very emotional."
Brian and June recently lost Katie, a Leonberger, who died in the middle of the night and was one of their personal pets. Katie was brought to their attention by a concerned neighbor of the dog when she was about 4-1/2 years old. Katie was kept outside, tied by a piece of clothing line. It was a hot July and she sat in an old Lazy Boy type chair that had a thousand fleas on it. Katie was only 88 pounds, about 30 lbs. less than she should be. She was literally being eaten alive by fleas, had almost no hair and her ears were infected inside and out. She had eye infections, a urinary infection and sores on her nose, feet and just about everywhere else. She was a very sad case but was still wagging her tail with June and Brian approached her. They told the neighbor to tell that owner that they were taking Katie and intended to file an abuse claim against her. Luckily, the owner relinquished to dog to AC Paw. After several baths, vet care and TLC, she was nursed back to health. And, of course, she wagged her tail throughout the whole ordeal. Everyone loved her.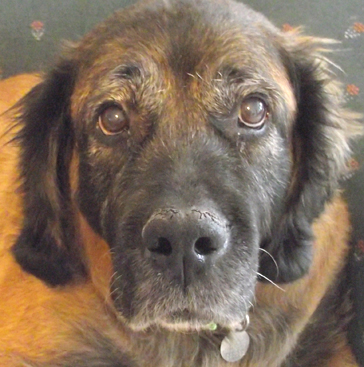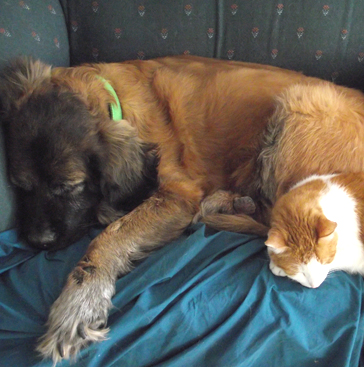 June and Brian waited for the perfect home to come along but unfortunately it never did. There was some interest in Katie but a good enough home could not be found. That was fine with June and Brian though because they had become very attached to her. Katie hung out with them in their house, making them laugh with her antics and taking over their Lazy Boy. Katie was also an AC Paw educational dog, going to many events and visiting school kids. Katie was great with them. After about seven years, Katie started showing her age and had problems with joint pain, skin conditions and other medical issues. June and Brian hoped she might have another year to live, but were surprised to find her passed away recently in her bed.
Brian says, "It was bittersweet. She knew she was loved and was a real part of our pack for those seven years. She had her own chair, got fed, was never out in the heat or cold and had lots of friends, both human and canine." He continues, "She was much easier to love than some and gave as much as she got."
For those pet owners who have to make their own decision about when to euthanize a sick pet, it can be hard to know when the right time has come. When we are young, it is our parent's decision to make but when we become adults, its a decision that we must make on on own. It can be difficult, and sometimes there can be second-guessing and regret.
Brian says, "Even expensive testing and diagnosis can not make us sure of the course of events. We have seen this many times as animals have recovered unexpectedly and gone on for a good period of time enjoying life and love." In the end, everyone has to make their own decision about when to end their pet's suffering. Brian finds it hard to make that final decision and says, "I have gotten better at letting them go earlier in the process, but, still tend to wait too long. When you end up with a lot of animals that are already old or are battling challenging conditons, you will face more life and death decisions. Some people use this as a reason to never adopt old animals. I have always cherished every relationship with the older animals. Even when we have had them only a year or so, they have left us with wonderful memories about their character and capacity to love."
There are many stories that can explain Brian's trouble with letting a pet go too soon. AC Paw has brought back many pets from the brink of death, some who weren't expected to live at all. And June and Brian have been happy to give an older dog or cat a few more years, or even months, to live out the rest of their lives in a home of their own with someone to love them.
There was Aunt Charlotte, an old Beagle who spent her last six months with AC Paw.
Jerry, a deaf Springer Spaniel who was a gentle soul and who was 12 when AC Paw took him into their system and lived another year and three months.
Blue, a 12 year old chocolate Lab lived exactly two more years after he was supposed to be euthanized.
Leuka, the mentally ill Eskimo who was nine years old and lived another four and a half years.
There was also a Doberman who June brought back from a funeral of a relative down state. He was about eleven years old and howling - not from lonlieness but because he was crawling with red ants who were eating him up. Being inside a house was new to him but he caught on pretty quickly at June and Brian's place. He also had "Wobbler's Syndrome." He would occasionally fall down and be paralyzed for an unpredictable time (minutes to a couple of days). He had a great sense of humor and he left a lasting impression on June and Brian even though he was only with them for a year. And there are many many more stories like this. This is why, perhaps, Brian holds on to an animal a little longer than the average pet owner. Brian and June have seen many cats and dogs rally for unexplained reasons.
Kerri Collier, owner/operator of Great Lakes Pet Memorial & Crematory in Traverse City, has some advice for pet owners who have recently lost a best friend.
Kerri says, "For most pet owners, they're more than 'Just a pet'. They're members of the family and even a best friend. They provide us with unconditional love and companionship. The loss of that pet can be emotionally devastating and difficult to face."
Grief, confusion, anger, guilt and depression are all typical and completely normal responses to the loss of a pet. Kerri says, "Do not feel guilty or let others make you feel guilty for having intense emotions or sadness. You have a right to feel pain and grief. Someone you loved has died, and that loss should be acknowledged."
She offers these tips on dealing with grief...
Say good-bye together...Having the opportunity to say good-bye together as a family can do wonders for healing. A ceremony (even a small one) will help loved ones heal, especially if they are given the opportunity to say a few words about what the pet meant to them. If you're having your pet cremated, ask to spend some time at the facility's farewell room or chapel with your family before cremation.
Cry, Cry, Cry...Take a day off from work or school and simply cry your heart out. It may seem like torture at the time to devote yourself a day to thinking about your pet; but crying and releasing these emotions of grief does a great deal towards our ultimate healing. Locking away grief doesn't make it go away. Express it. Cry, scream, pound the floor, whatever you need to do.
Talk to a friend...If your family or friends love pets, they'll understand what you're going through, or at least sympathize. It is good to talk through your feelings and let others help. If you don't have friends or family to turn to, try calling the local pet memorial, they will be able to direct you to the right resource. Finding someone you can talk to about how much the pet meant to you and how much you miss them is important.
Create a memorial...Creating a special tribute to remember and honor your pet is very therapeutic. Assembling a fitting memorial can help affirm your pets importance to your family. There are many resources available in your area. Choosing a cremation urn or Memory Box, an engraved garden stone, or simply just a nice picture frame can help. Check with the Pet Memorial Store in your area for all products available. Great Lakes Pet Memorial & Crematory specializes in helping families through the grieving process. Cremation services are provided on site and hundreds of products are available in their store located in Traverse City, off M-37 just south of town. Call (231) 421-1370 or visit their website.
Whether you are dealing with a sick pet or have just lost your furry best friend, please know that you are not alone. Reach out to your friends and family, as well as the resources available in your community. And remember to take it easy. Live life day to day, just as our pets do.